Purpose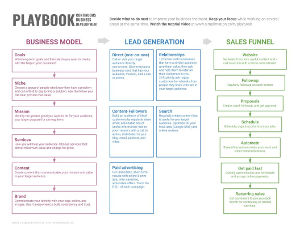 If you've already watched our video about Continuous Business Development, you're ready to get started investing each month in developing the "revenue engine" of your business. The question is, "What do I start with first? What will have the biggest impact on my business right now?" That's why we created the "Playbook". It's the result of 16 years' experience working with dozens of small businesses and startups. It's like a cheat sheet. It's like a map. It's your main tool for for deciding what to do next to improve your business. And everything you need is on one page. We use it with every client to help them decide what is the most effective thing to invest in each month to improve their business. And we're continually updating and improving it.
Download the Playbook
Enter your email address and we'll immediately send you a link to download the PDF:
Why do we ask for your email address? Our mission is to help small business owners grow their business and reach their goals, not to send junk mail. We know you're super busy, so we gladly take on the job of following up with you by email to see how we can help you get something started (there's no pressure or obligation). And from time to time we'll share things that we've learned work so you can use them in your business. We WON'T share your email address with anyone else. You WON'T get any junk mail from this. And we won't send you email if you ask us not to. We respect your and your inbox!
Watch the video below to learn how to use the Playbook...
Save time and get the whole story by watching this 8-minute video. Learn how to use the Playbook to decide where to invest in your business each month so you get get results quickly.
Overview of the main areas
Now here's a quick overview of how to use it. There are 3 main areas.
Business Model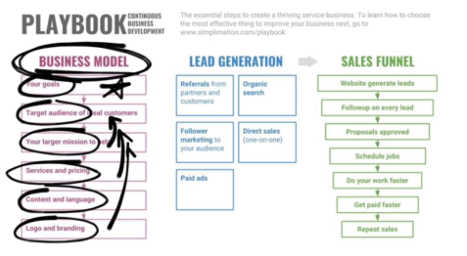 This is the foundation of your business. It includes:
Your Goals: The long-term goals and lifestyle you want to create with your business.
Target Audience: A group of ideal customers that share similar needs.
Larger Mission: The bigger "cause" that gets you fired up to help people.
Services and Pricing: What you will do to solve your audience's problems and the maximum you can charge for it.
Content and Language: A library of content that clearly communicates your value to your audience and motivates them to choose you for solutions.
Brand and Identity: A consistent visual representation of your business, including your logo and graphic design.
Your goal is to have everything you say be hyper-focused on communicating your mission and value to your target audience, but most importantly that everything you do in your business moves you closer to reaching your goals.
Lead Generation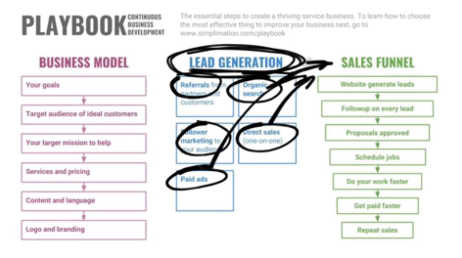 This is how you get your message in front of your target audience and get new customers.
Referrals: Which involves asking your existing customers to refer other people like them, and cultivating business partners who will refer their customers to you.
Organic Search: When your target audience knows they have a problem and they're actively searching for a solution online, they find you.
Follower Marketing: Instead paying someone to use their list of potential customers, you build your own audience of ideal customers and regularly share useful information with them in various ways.
Direct Sales: Having a face-to-face conversation with people in your target audience.
Paid Ads: You pay someone to make your message to show up when your target audience is searching for solutions like yours.
Your goal is to get as many people from your target audience to take the first step in your sales funnel while spending as little money as possible.
Sales Funnel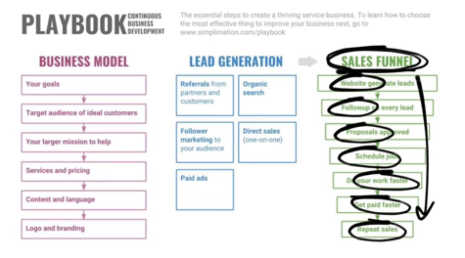 This is a step-by-step system, the path that each person takes to become a loyal, repeat, paying customer. Depending on the type of business it can look this this:
Website: A person learns about your solution on your Website and takes the first step to contact you.
Followup: You regularly followup with every single lead to find out how you can help them next.
Proposal: You create and send them a proposal that is easy to approve.
Schedule: Your customers schedule appointments themselves so you can easily organize your work.
Automate Workflow: You get your work done quickly and communicate with customers.
Payment: You quickly send invoices as soon as work is completed and get paid faster with automatic credit card payments.
Repeat sales: Your customers pay you each month for continuous services.
Your goal is to make it as easy as possible for people to move through the funnel so you can get paid quickly.
How to use it
So how do you use the Playbook to invest each month in improving your business?
The very first thing you should do is write down your goals. That will affect every single thing you do from now on.
But besides that... every business is different. Your business is unique. There's no "one-size-fits all" approach. Using your Playbook allows you to review your entire business model each month and then make a strategic decision about what to improve next, based on your business and your priorities. You decide where to invest your time and money next for the best results.
Example #1: Startup
If you're starting a new business or testing a new market or service, the best thing to do first is start with your Business Model by choosing your target market. Before you set your prices, design your logo, and start selling, you want to talk with people and find out what their problems are. That will help you discover how you can help them on a deeper level and really impact their lives. That will lead you to the exact services you should offer and what you should charge, and the exact words to use when talking to your audience, and so on. Then you can focus on reaching your entire audience and helping them go through your Sales Funnel.
Example #2: Existing Business
If you've been in business for a while and you're doing OK, but you want to take it to the next level, then you'll see the quickest results by starting at the end of your Sales Funnel. You've already got happy customers, so what other ways can you help them? Are there any services you can provide each month? Then look at how you can make it easier for customers to pay you faster for jobs you've already completed. Then look at how you can automate your own work so you can get it done and get paid faster, and so on. Once your funnel is a money making machine, then you can focus on getting more leads. And then you can start testing other markets and services.
What to do next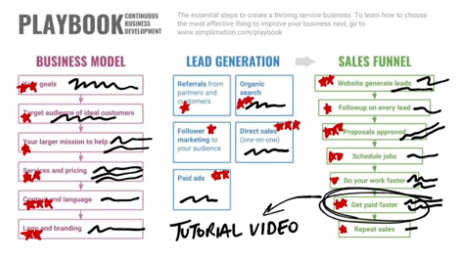 So to get the ball rolling with your business, schedule 15 minutes some time this week where you can concentrate without distractions.
Look at each step on your Playbook. Jot down a quick note for each step to show what you're currently doing and then give each step a star rating that shows how effective it is right now.
Take a quick break, then come back and take a fresh look at the entire picture. Ask yourself, "If I could pick one thing right now that would have the most impact in the least amount of time, what would it be?" Circle that step on your Playbook. That will be your entire world for the next month.
Focus your energy on actions that will make that step as effective as possible. Spend the least amount of time and money developing it. We're working on creating step-by-step tutorial videos, templates, and worksheets for each of the steps on the Playbook. In the meantime, if you need help with the step you selected, click the button help to contact us. We'll show you exactly how to do it, step-by-step, based on what we've learned works best from our own experience and working with other small businesses. Get started, get it done, and see results.